Mulberrys Cleaners 2018 Entrepreneur Scholarship Winner
The Mulberrys Cleaners 2018 Entrepreneur Scholarship Winner
For the second year in a row, we challenged high school and college students around the country to present us with an innovative business idea for the opportunity to win a $1,000 college scholarship. We look forward to reviewing these submissions each year and this year's applicants were equally as impressive as last year's. We were impressed both by the business ideas students pitched to us and their thoughtful plans and strategies for making their business dreams a reality. Though it was difficult to choose only one winner, there was one submission that stood out from the rest. We're excited to announce the 2018 winner of our Entrepreneur Scholarship is Hannah McDonald from the University of Denver!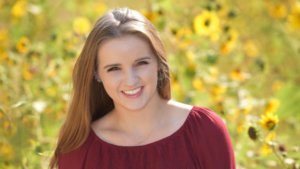 Hannah McDonald is a first-year student at the University of Denver, majoring in business and psychology. She grew up in Boulder, Colorado and loves everything the state has to offer  including the culture and active lifestyle–from hiking and camping in the summer to skiing in the winter. Hannah enjoys world travel and has learned a lot from the opportunities she's had to visit other countries and cultures. A few years ago, Hannah decided to become vegan and stopped eating processed sugars in hope of finding a healthier and more well-rounded diet. This lifestyle change helped her develop a passion for nutrition and access to healthy foods. In the future, Hannah hopes to combine her passion for nutrition and academic endeavors to start her own business: a health-conscious bakery, where people can find a supportive community to create new eating habits and change their lives.
Join us in congratulating Hannah!  You can check out her submission below.
My future plans, from the perspective of a nineteen year old: I will obtain a double major in business and psychology from the University of Denver; return to school for my masters; spend my twenties and early thirties in the business world, gaining experience; settle down and have a family; then, when my kids are older, open my own business–a gluten-free, dairy-free, processed sugar-free bakery. This bakery is my ultimate goal, and what I do between now and then is preparing me to achieve this goal. I have large aspirations, and while these plans likely won't be executed exactly as they are currently set, I know that, fundamentally, I just want to help others, specifically through the work I do with my future bakery.
I have developed a passion for nutrition, and I hope to share it with others. Eating healthy is key to living a happy, productive, and overall healthy life. I have personally experienced the change that can occur by transitioning to a healthier diet, and I strongly believe that what an individual chooses to consume has an impact far beyond what many believe it has. Therefore, it is disheartening to me that people are unable to attempt a healthier lifestyle, whether it is due to lack of education or financial constraints. In my future health-conscious bakery, I intend to make a difference in the community by educating others on the benefits of eating healthy and how to make it a reality. Many believe that when switching to a healthier diet, they must give up the tasty treats they love, making the transition more difficult. However, this predetermination will be proven false, as many health-conscious, tasty treats will be served in the bakery. Brownies, sorbet, muffins, cookies, and pie can all be made without unhealthy additives, but these delicious, healthy treats are not readily served or recognized. I plan to share my personal experiences, recipes, and advice on obtaining a healthy diet, ultimately benefiting the surrounding community since food has such a large impact on one's life.
My business background will undoubtedly give me the knowledge to open and run the bakery. Having only completed one quarter, ten weeks, at the University of Denver, I can already see this. In my first business class, Gateway to Business, we completed the Madden Challenge: a nearly quarter-long project in which I took a mere idea and turned it into a business plan, ready to be pitched to investors. On September 20th, I had less than twenty seconds to introduce my app idea. By November 1st, I had a business plan, revenue model, website, prototype, and digital presentation. Additionally, I gave a seven minute oral presentation with one of my group members, pitching our business idea. Through this process, I began to learn about the different areas of business, about entrepreneurship, and about what it takes to start a business. The amount of knowledge, experience, and growth I obtained in just this one class is remarkable, and having experienced this, I can only imagine how well my next eleven quarters at the University of Denver will prepare me to meet my goals and pursue my passions.
My bakery idea has potential to become a community for the health-conscious, extending from ready-to-eat healthy treats to support for obtaining a healthy lifestyle. Making this idea a reality will take work, but both nutrition and helping others is something I care about deeply. Food has the power to change a person's life, and therefore, I am excited to gain the experience and put in the work to help others experience this change.