6 Do's and Don't's of Summer Fashion
By Mulberrys
Ahh…summertime. The season of outdoor events and gatherings of all shapes and sizes. And you know what that means–you've got to be looking your best! Here are 6 tips to help refresh your outfit repertoire:
1) DO: Wear Lightweight Fabrics
Especially in Minnesota, we have limited time to enjoy these warmer temps, so take advantage of it! Lightweight cotton, linen, even lace finally have their time to shine.
2) DO: Add a Pop of Color!
Summer trends are all about experimenting with different colors. If you couldn't possibly imagine yourself wearing red shorts (or something equally bold), try adding a colorful accessory like shoes, a scarf, or a necklace.
3) DON'T: Listen to Your Mom
Ok, you should still do that. But not about when to wear your favorite white garments! The Memorial Day to Labor Day rule no longer applies, so enjoy those white pants or shorts for as long as your heart desires!
4) DON'T: Underestimate Shorts
Dressy shorts are making quite the statement this summer. Invest in a pair made of elegant materials and construction; with the right shirt and accessories, these shorts can give any outfit the perfect casual–yet chic–vibe.
5) DO: Layer, Layer, Layer!
Even though some August days merit the most minimal amounts of clothing, summer fashion trends certainly don't! Men and women alike can add variety to their favorite outfits by introducing a button up or light cardigan to the mix.
6) DO: Experimental Combinations
Traditionally, fashion "experts" have suggested playing down patterns with coordinating solid garments. Not this year! Try pairing patterns of different sizes, such as small polka dots with larger stripes. Same goes for colors–don't be afraid to pair unconventional colors together, such as white on white or navy with black.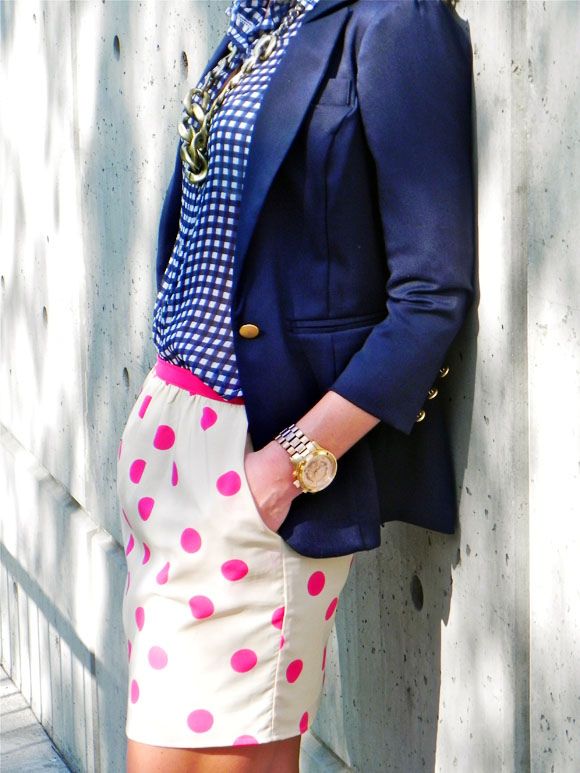 Bottom line: The vibes of summer are carefree and easy–and your fashion should be, too! And when the party's over, stop by Mulberrys to get your garments ready for the next big event! Our natural CO2 dry cleaning process keeps your fabulous fashions looking just like new, and our expert stain removal processes are there to help when you have a little too much fun. Visit us at one of our six locations: St. Louis Park, Minneapolis, Edina, St. Paul, Ridgedale, and Eagan!
Have a great weekend!
Team Mulberrys