NEW CUSTOMERS SAVE 20% OFF YOUR FIRST ORDER
Get Deal
The Best Winter Fabrics for Cold Weather Clothing
We've told you about the best fabrics to wear in the summer, but what fabrics should you wear when fall or winter hits and the weather gets colder? We love the winter months because it gives everyone an excuse to layer up with the warmest fabrics and keep things comfy. From cozy sweaters to toasty scarves, the sky's the limit for the amount of clothing you can make out of these fabrics. Here are the best cold weather fabrics to bundle up with.
The 5 Best Cold Weather Fabrics
While your exact wardrobe choice will depend on personal style and how cold it gets in your location, here are five of the best fabrics options for fall or winter clothing.
Cotton
Cotton is a universal fabric that can be made thin, in order to be breezy for summer, or thick so it can hold up to the elements of winter. It's also a great alternative for people who have allergies to fabrics like wool. It's fairly durable, but it is also a very breathable fabric and is very soft. One drawback of cotton is that it absorbs moisture, so it's not an ideal fabric to wear on its own if there are harsh weather conditions in the forecast.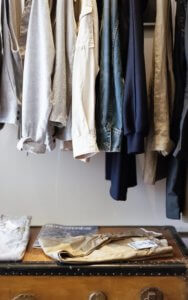 Leather and Faux Leather
Leather is a gorgeous fabric that is perfect for not only the winter months but all year round. Leather is a unique textile because it seems to get better with age. It forms to you, it's very durable, and it's a great shield against the elements. You need to maintain leather in a special way, but if you can manage it, you can keep it forever. For a more animal-friendly option, you can also opt for faux leather, which doesn't use any animal products. Trust the experts at Mulberrys to provide exceptional leather cleaning that will have your items looking as good as new.
Wool
One gorgeous, and incredibly warm fabric, to consider when things start to cool down is wool. Raw wool is typically gotten from sheep, but more recently, manufactured options are hitting retail stores. Wool is a special fabric because it creates a natural insulation due to the air pockets that are present throughout. On top of that, it's also water-resistant, so it's a great option for snowy and rainy weather. Wool is lightweight, yet strong, which makes it fairly durable and long-lasting. All-in-all, it's one of the best options for casual or formal cold-weather gear.
Fur and Faux Fur
Humans have been using fur to keep warm for millennia. Fur was relatively easy to procure in the olden days and was used to keep the elements out while also retaining plenty of warmth for the cold, snowy months. Now that we have central heating, fur is more of a statement piece than a necessity, but it still keeps us warm all the same. We even have a faux fur option so we can still be fashionable without the need for an animal to lose its coat. Both options are warm and durable, but you need to know how to maintain them so you can keep them looking like new for years. 
Fleece
Last, but not least, is fleece. Fleece is pretty much synonymous with the winter time. Fleece is infinitely comfortable and relatively lightweight, so it's a great fabric to use in casual, everyday coats and jackets so you can stay warm on the go. Along with it being lightweight, fleece is also an inexpensive fabric, so you can get a lot for very little money. It's typically not water-resistant, so it's best to keep it out of the rain and heavy snow if you opt not to put on a moisture-wicking layer on top.
No matter what winter fabrics you plan on wearing to stay warm and cozy this year, rely on Mulberrys Garment Care to clean them to the highest standard. Visit Mulberrys Garment Care to experience high-quality dry cleaning for all of your warm-weather clothing. We offer environmentally-friendly dry cleaning and free pickup and delivery from our locations in Minneapolis, San Francisco, and Dallas. Schedule your drop-off today!