Mulberrys Serves Downtown Minneapolis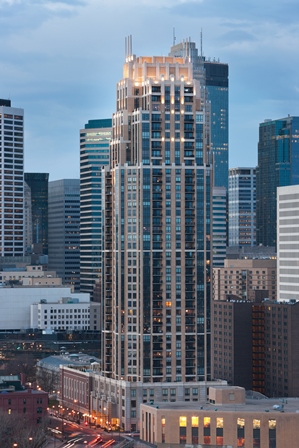 Right as you cross the mighty Mississippi into downtown Minneapolis, you'll be met with the luxury Carlyle Condominiums. Sitting at 100 3rd Ave S., this high-rise is in the middle of the action. Just a short walk away from the Guthrie Theater, fine dining and concert halls, you'll want to be looking your finest when you go out on the town.
Mulberrys Garment Care of Minneapolis can help you always look at the top of your game whether you're going out for a casual evening along Nicollet Mall or checking into your reservations at Manny's Steakhouse. If you live or work at Carlyle Condominiums, you could be using Mulberrys full-service offerings right now.
We provide pickup and delivery twice a week to those who work or live at Carlyle Condominiums, which means you'll always have the cleanest clothes pressed by the finest in the industry. When you look good, you feel good, and those living at Carlyle can always feel good with Mulberrys Garment Care available in their very own lobby.
The Preferred Toxin-free Dry Cleaner in Minneapolis
Whether you need your garments dry cleaned or wet cleaned, Mulberrys adheres to strictly toxin-free techniques. Our proprietary dry cleaning methods use toxin-free solvent made from corn right here in Minnesota to clean your clothes.
Outdated dry cleaning methods still used by many cleaners across the nation rely on perc, a synthetic volatile organic compound (VOC) that not only harms the environment, but also harms you and those who work with it. Perc can contaminate water you drink and the air you breath—two detrimental effects people living alongside the Mississippi River definitely don't want. Our method is completely toxin-free and environmentally friendly.
Our wet cleaning process uses precise combinations of heat and water. Since we don't use excess heat and water, not only is Mulberrys saving energy and water waste, but we're also keeping your clothing from pilling, fading or stretching. Once your garments are expertly cleaned, our world-class pressers put on the final touches.
Not only do we stand by and take pride in our eco-friendly cleaning practices and 100% chemical-free detergents, but we also are leading the way in leaving as small of a carbon footprint as possible. Our hangers are crafted from 100% recycled wood and our garment bags are completely biodegradable. Minneapolis is one of the nation's greenest cities, and our dry cleaning standards intend to keep it that way.
Your wardrobe is an important investment you've been making. You put a lot of thought into each piece of clothing or each accessory you choose to complement your wardrobe, so let Mulberrys prolong the lifespan of each piece so you can look great for years to come.
What kinds of services does Mulberrys offer?
We haven't just perfected how to provide clients at Carlyle Condominiums of Minneapolis with the best dry cleaning in the Twin Cities. We're a full-service garment care shop that also offers:
Wedding gown cleaning and preservation: This may be one of the most valuable dresses you wear in your life—let's preserve it together. After your big day, you may want to save this for the memories or for generations to come after you. No matter your reasoning, Mulberrys is the premier wedding gown cleaner of Minneapolis and can also expertly preserve your wedding dress to keep it looking as good as the day you first wore it.
Shoe shine and repair: Shoes can be some of your most expensive accessories. It's more cost-effective and eco-friendly to repair or resole worn shoes instead of throwing them away. Experts at Mulberrys can carefully repair your broken high heels, unstitched soles or undone eyelets. We can also shine them like a new penny.
Tailoring and alterations: We take pride in our detailed craftsmanship and attention to detail when it comes to precisely altering or tailoring your clothes. Whether you need a button replaced, pants hemmed or a more complex alteration, our experienced tailors can make all of your garments fit you with unmatched precision.
Leather cleaning: Bring your worn or soiled leather garments, bags and accessories to Mulberrys to get them looking refreshed. Leather cleaning is specific to each piece and takes time, so allow for two weeks to complete your order.
Household cleaning: Some of our most soiled fabrics often go uncleaned and overlooked. Some of these include pillows, comforters or even drapes. These items collect dust and debris, but are so bulky and awkward that they rarely get washed.
The Best Dry Cleaning Right at Your Door
All of our services are offered right at your door. Simply drop off your order at your safe and secure lobby drop-off or locker and Mulberrys will take care of the rest. Need our services at a time other than your regularly scheduled pickup? Use our on-demand service.
Request on-demand pickup from Mulberrys and we'll be to Carlyle Condos within an hour of receiving the request to pickup your garments and more for any service you may need. We offer the most convenient hours and the most comprehensive dry cleaning services in Minneapolis—and now right in the lobby of Carlyle Condos.
Call or visit to see more of what Mulberrys is all about, or check out our full services and pricing here to see how we can offer you an unmatched clean right in downtown Minneapolis.