Did you say "yes" to the dress?  Now it's time to say "yes" to the cleaner who will clean and preserve your wedding gown.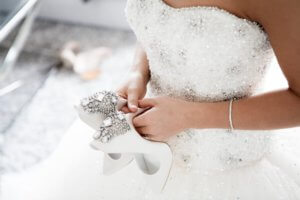 One of the most important pieces of clothing you'll ever purchase in your lifetime is a wedding gown. Many women choose to wear an older gown handed down from an older relative while others choose to purchase a brand, new dress.  Either way, choosing the right person to restore and preserve your special dress is important.
Not many dry cleaners can properly restore and preserve wedding gowns.  At Mulberrys, we are privileged to be able to be part of your special day and that's why we use the best processes to make sure you look your best on your wedding day and your special day lives on for years to come.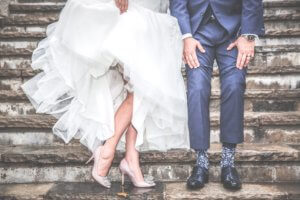 What's important when it comes to preserving your wedding gown?
1. Does your dry cleaner truly understand the cleaning process?  Preservation is more than dry cleaning and folding your dress in a pretty box. The Mulberrys team is trained to properly preserve your wedding gown from removing stains to fixing seams and reattaching sequins or pearls.
2.  Does your cleaner use a cleaning process that won't damage your gown?  Cleaning a wedding gown is quite different than cleaning any other type of clothing. We specialize in wet cleaning, using our environmentally-friendly, non-toxic detergents and crystal clear purified water. Every step of the way, our professionals will ensure that your gown is treated with the gentleness and care it deserves. The cleaners we use to prevent fading or bleeding of dye and preserve crisp, bright color that almost makes your dress look better than new.
3.  Does your cleaner know what to do after they are finished cleaning your gown? After cleaning your wedding gown, the cleaner shouldn't hand it back to you in a typical dry clean bag.  At Mulberrys, we carefully fold into an acid-free, museum-quality box designed to prevent yellowing and keep your dress looking brand new for years to come.  You can pass it on to your daughter, niece, or another family member.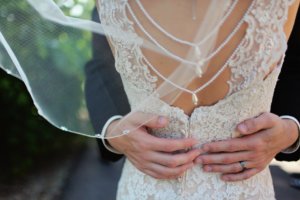 Wedding gowns aren't just dresses.  They are memories. When you bring your dress to Mulberrys, we'll give you an overview of what to expect along with a quote.  A specialist will examine it and take you through the process.
Congratulations to you on your special day!
Click here to learn more about how we can help preserve your gown.