Dress Codes Decoded: What to Wear Where?
Dress Codes Decoded: What to Wear Where?
In the hopes of taking some of the guesswork out of getting dressed, we recently conducted a study to see what people think the most acceptable attire is for various social events. From first dates to job interviews, we've decoded the dress codes in the results below.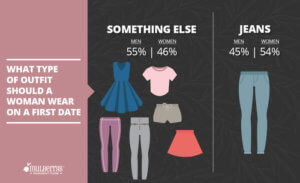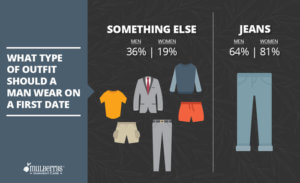 Anyone who tells you that they don't get stressed out before a first date is lying. While we can't predict the quality of conversation and the number potential awkward silences that will occur on a date, we can give you some clear guidance on what to wear based on our survey results. Men and women agree that when in doubt, you probably can't go wrong with jeans.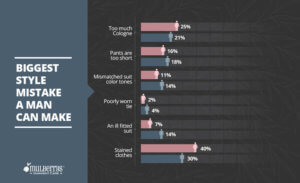 Is your outfit clean for your next big event?
We also gained some interesting insights into what not to wear on a first date. Men and women weighed in the biggest style mistakes they feel that a man and a woman can make. For women, women think clothes that are too small is the biggest no-no and most men prefer that women not pile on the makeup. For men, men and women agree that stained clothes are the biggest style mistake a man can make (they might need to make a pre-date trip to Mulberrys to avoid this faux pas).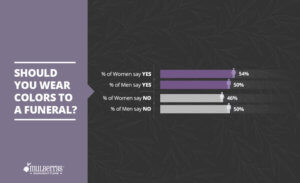 It's a commonly accepted notion that you should wear black to a funeral as black is the color of mourning. This custom dates all the way back to the days of the Roman Empire where funeral attendees work black togas. This custom is changing with the times and more and more people are moving towards more colorful funeral attire, seeing funerals as a celebration of life rather than mourning. Respondents were split here with 50% of men and 54% of women saying colors are acceptable. When in doubt go with a conservative outfit with subdued colors.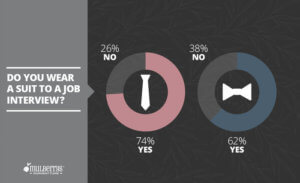 With more and more offices shifting towards more relaxed work environments, is it still necessary to wear a suit to a job interview? If you do decide to go with the suit, will a tie make you come across as stuffy? These are the types of questions fogging minds of interviewees during a time that could be spent more productively prepping for the actual interview. In this instance, the majority of both men and women agree that, yes, you should wear a suit to a job interview.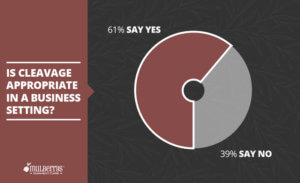 Whether it's at the interview or the first day on the job, don't worry too much about staying buttoned up as 61% of respondents think cleavage is acceptable in the workplace. Obviously, use your best judgment here depending on the style of company that you work at.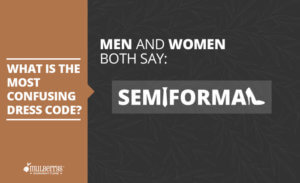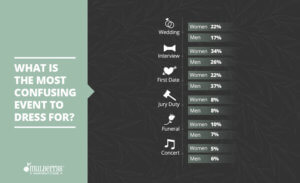 To round off the results, we asked respondents which dress code is the most confusing and which event is the most confusing to dress for. Men and women agree that semiformal is the most confusing dress code. For specific events, women get most stumped when dressing for an interview while first date outfits are the biggest question mark for men. Hopefully, some of the insights we've provided above will take some of the guesswork for all of those men and women out there before their next first date or interview.
The next time you go to get dressed for an important event we hope this guide can help ease your outfit decisions. Do you agree with the results of our study? Is there a dress code that confuses you that we didn't mention? Let us know below in the comments!