Must-Have Men's Accessory for Fall: The Boutonniere
By Mulberrys
This week in the Berry patch, the cold weather has us thinking suits, suits, suits. Colder weather means getting creative when it comes to stylish ways to stay warm, and if you're like us, you've been busy getting out your favorite boots, cashmere sweaters, and prepping your coziest woolen suits for the winter season.
It can be hard to dress up the same suit in new ways to avoid fashion boredom. With our mind on adding variation to finely tailored suits, we've been busy exploring the intriguing world of men's fashion accessories.
One accessory that has us completely enamored is the lost art of men's boutonnieres. The word "boutonniere" is French for "button-hole," which comes from the act of wearing a flower or small spray of flowers in the buttonhole on the lapel of a suit coat.
Wearing a boutonniere has become relegated to formal occasions only, which is a shame. We would encourage any gentleman to revive this simple art, because it will upgrade his wardrobe immediately.
Wearing a boutonniere on the lapel of your suit displays confidence, masculinity, and sartorial style in a way that speaks volumes without words. You can choose any flower you like, from a simple elegant carnation to a more stately rose, but usually a more understated flower is best.
The only "rule" about wearing a boutonniere is to let it be a conversation starter, not the subject of conversation. If someone gives you a compliment, simply thank them. It should spark up a talk, not garner too much attention.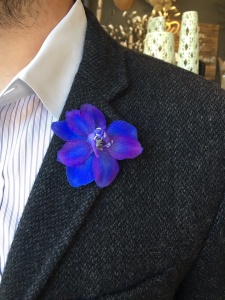 If you should have any qualms about flowers and masculinity, put them to rest. Warriors, athletes, and scholars alike have been wearing flowers for ages. And if you need a more modern take on it, think the Rose Bowl :)
And on another debonair note- wouldn't it be charming to have a flower on hand to give it to some lovely lady at the end of a nice evening out? Or to give to that sweet elderly lady you just helped to cross the street? That ought to earn a warm smile from a lady of any age, to be sure. Think big picture, here, gentlemen!
Happy Boutonniere-ing! :)
Team Mulberrys