How to Store Your Winter Clothes for Spring
With every new season comes the chore of putting away last season's clothes. Discover a few simple tips to make storing your winter clothing a painless process that will make sure your cold weather wardrobe looks amazing when the next winter season arrives.
5 Tips for Storing Your Winter Clothing
1.) Keep Bad Smells and Moths Away:
When your winter clothes hibernate for the spring, they'll spend seven to nine months stored away with little access to fresh air. To avoid a strange-smelling closet transition next winter, wash and dry clean all your clothes before storing them away. Use scented moth repellent, such as lavender or cedar, to keep the moths away and your clothes smelling fresh.
2.) Get Creative With How You Store Your Clothes:
It's best to store your clothes in a cool, dark place to avoid fading from sunlight or heat damage. But, there are many ways you can store away your clothes in this type of environment. The typical ways are using large plastic bins or garment ways, but extra luggage and travel bags can act as great storage items, too. Whatever you do, do not use plastic bags! Plastic bags allow for no air circulation.
3.) Avoid Color Bleeding:
Did you know your clothes can bleed while in storage? Place a piece of white tissue paper between each piece of clothing to avoiding bleeding. Also, for extra precaution, color code your clothes in storage.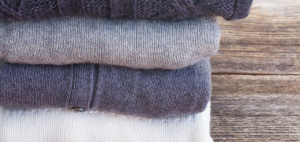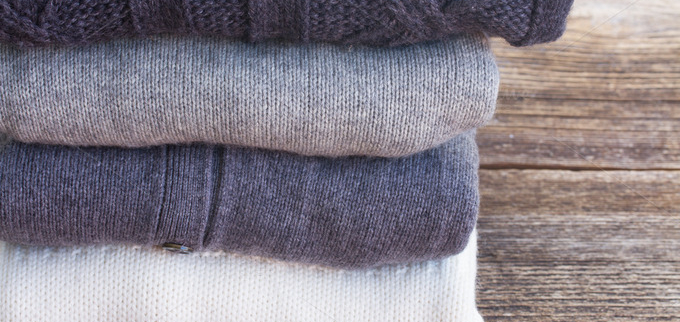 4.) Divide up Delicates and the Not-So Delicates:
Clothes made of fur, leather, and cashmere are more delicate fabrics. Don't overstuff them into your storage bins. Hang your fur and leather in a garment bag. Keep your cashmere sweaters folded in a separate container by themselves to avoid damage.
5.) Don't Forget About Your Shoes and Other Winter Accessories:
Put baking soda or lavender oil in your shoes to avoid smells and pack your dress shoes, boots, and gloves with tissue paper to help keep their shape. If you have a large collection of thick scarves, consider rolling them instead of folding to save space in storage.
You can also get your winter clothes dry cleaned to ensure they're fresh and clean for the next cold weather season. Check out our deals and promotions to save on your next laundry and dry cleaning order!