Treat Summer's Most Common Stains With Our Summer Stain Guide
Our Summer Stain Guide has all the tips for treating summer's most common stains.
There might not be any season better than summer. The weather is beautiful, weekend nights are full of fun outdoor events with family and friends, and you can't beat summer food whether it's ice cream or a refreshing watermelon. Treat summer's most common stains with our Summer Stain Guide.
As always, the best way to remove any stain is to take it to a professional. At Mulberrys Cleaners, our stain experts are ready to tackle any stain using eco-friendly detergents and processes. Our pickup and delivery service can get your summer wardrobe back to you quick and spotless.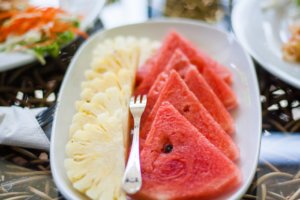 1. Fruit Juices: Juicy watermelon, fresh strawberries, and sweet blueberries are the perfect summer snack, but fruit juice can be one of the hardest stains to get out. If tasked with removing fruit juice, blot lightly with cold water. Pre-treat with an eco-friendly stain remover. Wash according to your clothing item's laundry tag.
2. Iced Coffee: In the summer, your coffee may turn from hot to cold. First, rub cold water on the back of the stain. If the stain persists, apply liquid laundry detergent on the stain. Blot with cold water. Repeat until stain disappears or wash your clothing item in your washer.
Are summer stains keeping you in the laundry room?
3. Pizza Sauce: What's a summer Friday night without pizza and friends? For pizza stain, scrape away as much of the stain as possible. Run cold water on the back of your clothing item for about 10-15 minutes. Rub liquid detergent or dish soap on the stain. Repeat until the stain is gone or wash it in your washer if the stain persists.
4. Sunscreen: Sunscreen protects your skin, but it sure doesn't protect your clothes. Remove excess lotion and treat with a stain remover. Wash in your washing machine, but don't place anything in the dryer unless the whole stain is removed!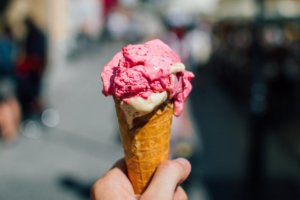 5. Ice Cream: Whether it's chocolate or vanilla (or mulberry flavored – our favorite!), ice cream can easily stain any fabric. Blot away as much of the stain as possible. Flush the back of the stain with cold water. Then, rub laundry detergent or dishwashing soap into the stain. Repeat until the stain disappears or launder as usual.
Extra Tip: White is a popular color to wear during the summer. Add a bit of lemon juice to your detergent if your clothing item is white.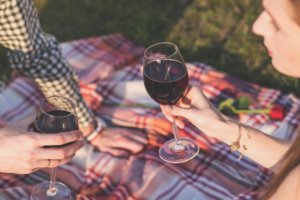 6. Red Wine: Cheers to summer! Too much toasting may spill red wine onto your shirt. First, sprinkle salt over the stain and let it sit for fifteen minutes. Blot detergent and water on the stain. Launder as usual.
7. Sweat: With 90-degree weather in some cities throughout the months of June, July, and August, it's common for sweat to build up under the armpits of your shirts, despite using deodorant! Soak your shirt in a mixture of vinegar and water for about 20 minutes. Use hydrogen peroxide, baking soda, and salt to create a paste and apply it to the sweat stains. Let it sit for another 20 minutes. Finally, wash the clothing item in your washer.
8. Deodorant: And with sweat comes deodorant. If you don't use a clear deodorant, your deodorant may stain your clothes. If this happens, apply a small amount of laundry detergent to the stain and rinse with water. Then, wash according to the laundry tag.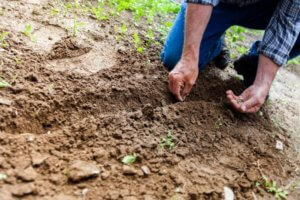 9. Mud: Summer thunderstorms bring rainbows…and mud. Brush off any dried mud off of the clothing item. Let the remaining mud residue dry. If you wash wet mud stains, you may damage the rest of your clothes. Use a toothbrush to rub detergent and water into the stain to loosen it. Finally, wash in your washer and let air dry. Do not tumble dry! Tumble dry may cause the stain to set if it hasn't all been removed.
10. Lip Gloss: Are you popping out the pink and coral lip gloss this summer? If you happen to find some on your shirt, scrape away as much as possible. Pre-treat with a stain remover and launder.
Summer just got a lot more fun, and clean! Want your dry cleaning and laundry delivered straight to your door this summer? Learn more about our free dry cleaning pickup and delivery services.