The Newest Way to do Your Dry Cleaning & Laundry is Now in Dallas
Here at Mulberrys, we are on a mission to reimagine dry cleaning and laundry for the 21st century in Dallas with our pickup & delivery services and eco-friendly approach.
"…it's one laundry experience that you won't mind entrusting your clothes with."
"The on-demand, toxin-free laundry and dry cleaning company irons out wrinkles for customer experience in a dated industry."
And it's not only the pros talking about our services.  Our clients have a lot to say about our pickup and delivery services, too!
"I normally don't write reviews… but I can't stop raving about Mulberrys. It's like walking into a spa. I'm not kidding. and then to see the freshly laundered shirts on WOODEN hangers with collar stays…"
– Holly
"I'm very happy to find a local, toxin-free dry cleaner that also provides high-quality service!"
-Alexys
Mulberrys, selected as one of America's Best Cleaners, offers pickup and delivery laundry services that come to your home, pick up your laundry, wash your clothes with eco-friendly detergents, dry and fold, and deliver your fresh laundry back to your home.
Our services are now available in the Dallas area.  Schedule your pickup & delivery through our dry cleaning app or online.
How can our pickup & delivery services keep you out of the laundry room and doing the things you love?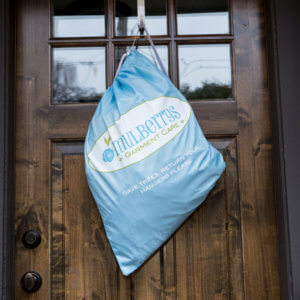 1. You don't need to be home for your pickups and deliveries.  Leave your laundry in your Mulberrys laundry bag at your door.  Let us know what time to pick it up and we'll swing by!  When it's finished, we'll drop it off at the location of your choice.
2. We offer same day service. Don't panic! When life gets busy, we offer same day pickup and delivery.
3. Our on-demand app allows you to easily schedule your order.  Use your phone to schedule your laundry orders.  No more complicated online experiences or in-store orders.
4. We only use eco-friendly, toxin-free detergents and provide wooden hangers.  One complaint many people have about laundry services is the chemical-smelling detergents.  We only use Caldrea, an eco-friendly, toxin-free detergent.  Your clothes will come back fresh and not smelling like chemicals. You'll also find your dress shirts returned to you on wooden hangers to ensure they don't wrinkle or lose their shape.
5. You'll spend more time doing the things you love in Dallas than in the laundry room. When we set out to reimagine the dry cleaning industry, it was important that we used innovative ways that made life easier for our customers and improved the entire laundry experience.  With our pickup & delivery services, your laundry and dry cleaning will be well taken care of and you can get out there and enjoy life.
Thanks for the warm welcome, Texas! We're excited to share our pickup and delivery services with the Dallas community.  Schedule your Dallas dry cleaning order today! Pickup & delivery is available in the following zip codes: 75230, 75225, 75205, 75219, 75201 75202