Top Ten Ways Mulberrys is Changing the Dry Cleaning Industry
Dry cleaning has always been the same mundane experience. The first dry cleaner opened in the United States in 1821. Mulberrys recognized that not much had changed with the experience.
Over the last few years, we've taken steps to disrupt the dry cleaning industry.  Our mission is to make it more convenient and safer for the millions of people who use laundry and dry cleaning services in the United States.
From Minneapolis to San Francisco, we are proud to bring our innovative approach to dry cleaning and laundry services. We're excited to continue to bring you the best dry cleaning and laundry experience.
Top Ten Ways Mulberrys has Changed the Dry Cleaning Experience
1. Eco-friendly processes: Perc has always been used in the dry cleaning process and it still is used by many dry cleaners. At Mulberrys, we believe our business can exist without damaging the earth and harming our customers. Therefore, we removed perc from our processes and only use eco-friendly detergents. We are also a carbon-neutral company, which means we don't add any new carbon into the atmosphere.
2. Home pickup and delivery: Our pickup and delivery services extend throughout the Minneapolis and San Francisco metro area, so even if you're not close to one of our store locations we'll come to you. Schedule your pickup time, place your clothing in your laundry bag outside your door, and we'll return your clothes fresh and clean without you ever stepping foot in our store.
3. App: Our app enables our customers to have their dry cleaning picked up in less than an hour and returned the next day. Find locations, pay your bill, check your order status, or get a price quote. Our app helps simplify the dry cleaning experience for you.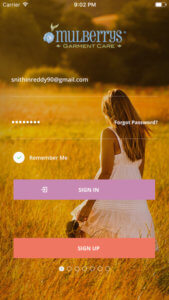 4. Wedding gown cleaning: Our specially-trained wedding gown restoration and preservation experts who will hand clean your special wedding gown, reinforce the wedding gown seams, and reattach any beads and other embellishments to the wedding dress where needed. To prevent any damage to the fabric or dye, we wash the wedding gown in crystal clear purified water and non-toxic solutions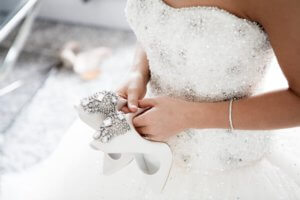 5. Household items cleaning: Our experts can properly clean your bedding, curtains, tablecloths, pillows, and rugs. Your home will feel refreshed and clean.
Still not convinced we're changing the industry?  Keep reading!
6. Laundry services: We take care of non-dry cleaned clothes, too! Unlike many dry cleaners, we offer laundry service. Don't feel like spending all Sunday in the laundry room? We'll take care of it for you.
7. Fresh beverages, coffee, and flowers in our stores: When you visit one of our stores, you'll find fresh beverages, coffee, and flowers. You won't smell chemicals or feel like you walked into a cave. We aim to keep a friendly atmosphere in all our stores.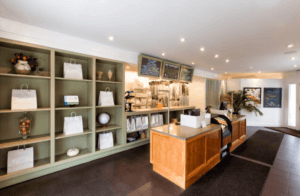 8. Call ahead for pickup: We want you to spend as little time as possible waiting for your dry cleaning. Schedule what time you'd like to pick up your order. We'll have it ready for you.
9. Shoe shine and alterations: When you have a fresh outfit you also want the perfect pair of shoes and fit. Our experts can alter your clothes. We can also shine up your shoes so you look fabulous from head to toe.
10. Cleaning services for delicate fabrics: Leather, fur, and other delicate fabrics require special care. We train our cleaning professionals to care for your most precious fabrics.
At Mulberrys, we are always looking to improve our experience and services for our customers.
As we continue to grow, our main focus is to always bring the best products and services to the market to improve our customers' lives and the world.
Thanks for being a Mulberrys customer! If you haven't tried us already, learn more about our 20% off for new customers deal here.