Why Choose Mulberrys As Your Dry Cleaner?
By Mulberrys
There are all kinds of cleaners out there these days. It seems like a new cleaner opens every day! Some are really fast, some are green, some are convenient, and some are… Well, not so great. It's tough to find the perfect sweet-spot between a cleaner that's fast and convenient, but also offers great quality work… So to help you choose the perfect dry cleaner, we thought we would give you a few reasons why you should choose Mulberrys for your Twin Cities dry cleaner!
Quality
Mulberrys stands by the quality of our cleaning. We have several checkpoints that each garment completes, throughout the entire cleaning process. The items are hand-detailed (we individually assess each garment to determine the proper cleaning method), inspected, cleaned, inspected again after cleaning, and hand-finished for a final once-over. Throughout the entire process, there are several stops in which the garments get a personal inspection to ensure that they come out perfectly every time, and if there is ever an issue, we would be happy to assist you with a smile.
Individual Garment Inspection
We even have a team member whose title is "Inspector" ! This member of Team Mulberrys is the person who individually checks every single garment by hand before it leaves our cleaning facility, to ensure that the items are coming back in pristine condition.
Our Redo Policy
We know that clothing preferences are individual to each person, so we would be happy to follow your special instructions. If you ever feel dissatisfied with the way that we have pressed a garment, or aren't happy with the quality of the cleaning, bring the item back within 14 days, and we'd be happy to redo the item for free!
Customer Service
Call or stop into any one of our five metro locations, and you'll be greeted by a smiling, courteous team member. We pride ourselves on offering world-class customer service. Making you happy makes us happy!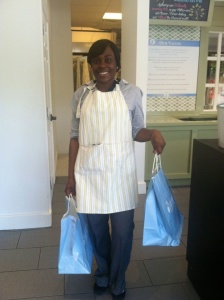 Convenience
A good dry cleaner should find a way to work around your schedule, not the other way around. Our owner, Dan Miller, likes to tell the members of Team Mulberrys about back in the day before he opened his own dry cleaning company. He used to find himself leaving work early in order to pickup his dry cleaning, because the cleaner would be closed early. We find it pretty silly that most cleaners have brief hours, at inconvenient times, and they don't always offer the biggest range of services. At Mulberrys, we vow to be convenient, in many ways.
Extended Hours
Mulberrys has extended hours, to suit your busy schedule. We're open seven days a week. You can find our hours on our website, but to make it even more convenient, we'll list them here:
Monday-Thursday: 7:00am-9:00pm
Friday: 7:00am-7:00pm
Saturday: 9:00am-5:00pm
Sunday: 10:00am-5:00pm
Free Pickup and Delivery
We know that sometimes, no matter how extended our hours are, you just can't find time to make it to the cleaners. But you don't have to, because Mulberrys offers free pickup and delivery! We offer regularly scheduled pickups and deliveries twice a week; or, if you only need dry cleaning done every occasionally, we also offer free on-demand pickups and deliveries. See our retail team to hear more! You can also call us to schedule pickups at 612)866-2348, or visit our website at this link.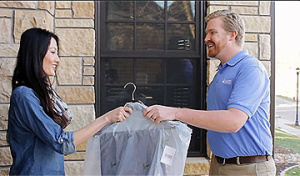 Suite of Services
Mulberrys offers an incredibly varied suite of services, to attend to all of your garment care needs. We offer dry cleaning, laundry, alterations and repairs, shoe shine and repair, leather and fur cleaning, wedding gown cleaning and preservation… The list goes on and on! Make Mulberrys your one-stop shop for all of your garment care requirements.
Sustainability
Tradition dry cleaners use harsh chemicals that have been found to be toxic! Yuck!! That's not the way that we do business. Our entire business philosophy is centered on the idea that everything we do should be healthy for you, and for our precious environment.
100% Toxin-Free Dry Cleaning
Our dry-cleaning process uses naturally occurring CO2, meaning that you can breath easy when wearing a garment cleaned at Mulberrys. The cold-clean technology uses CO2 to return your garments super-clean; it's also a cold process, which means that there is no heat to dry, fade, or shrink your items.
Eco-Friendly Finishing Methods
We hand-finish each item on recycled-wood hangers, which help your garment retain their shape, without making a tough impact on the environment. When you return the hangers to us, we can use them several times; we use wood hangers because they're very durable compared to the wire hangers used at most other cleaners.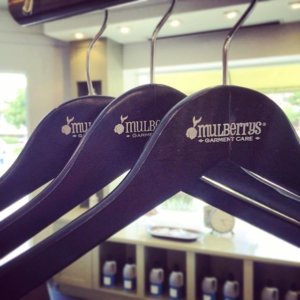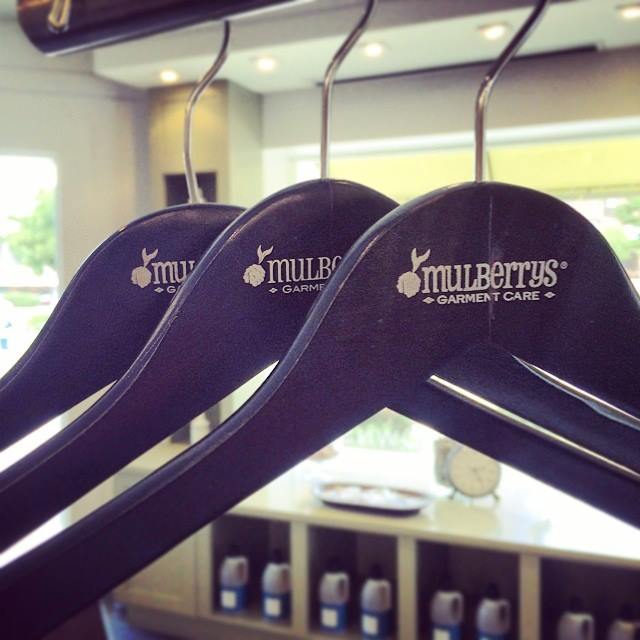 We also use bio-degradable garment bags to cover and protect your garments, meaning that our plastic bags don't create extra waste!
All of these reasons (and more) will hopefully persuade you to give Mulberrys a try, or continue using us if you're already a happy customer!
See you soon!
~Team Mulberrys